Competitions
In the Netherlands there are three types of competition: Indoor, Outdoor and Mixed. One of these competitions is played at any time of the year. Because they are national competitions, we sometimes have to travel quite a distance. Therefore, we play multiple games on a competitions day, which are hosted about once a month, instead of a game a week. We participate in all competitions with multiple teams.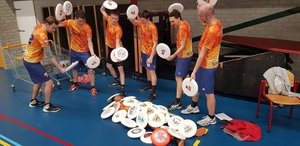 Indoor
The indoor competition is held between November and March. There are two competitions which are parallel. The open and womens. The womens competition consists only of female mathcing players in all teams. The open competition allows everyone to participate. Games are 5 vs 5 and lasts about 35 minutes. The games are played indoor.
Outdoor
The outdoor competition is held between April and June and is played outdoors. There are also open and womens teams. Games are 7 vs 7 and last about 45 minutes.
Mixed
The mixed competition is held in September and October and is played outdoor with a team of 7. The teams are of mixed genders, each lineup consists of four men and three women or three men and four women. This is matched by the opposing team.