Buy a disc
Want to try throwing a bit for yourself?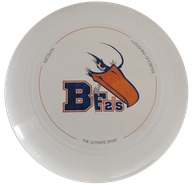 It is possible to buy a frisbee/disc with our logo on it. You can see what it looks like on the right. This type of disc is used during official Ultimate Frisbee games and it weighs 175 grams.
For non-members the costs of a disc are 15 euros and for members 12 euros.
Want to order one? Contact info@bfrisbee2s.nl.